While sifting through the New York Public Library's online archive of early twentieth century restaurant menus, the colorfully loud Japanese inspired art on the menu cover for the long gone Tokio Restaurant stole my attention. The front of the menu depicts a lush and lively jungle beach scene at sunset with cranes wading in the shallows of the shoreline and flying in between the supports of a large Japanese torii gate towering above a young kimono-clad woman. "Tokio Restaurant" is emblazoned in sunset red upon the top arch of the gate. The phrase "New York's Newest Novelty" hovers separate from the artwork as well as the promise of music and dancing in this exotic cabaret. Interested to learn more about what an Asian restaurant at such an early time would be like, I did a quick search and found little to no direct information about the restaurant aside from some brief mentions in newspapers. I found this lack of information troubling, so I took it upon myself to attempt to rediscover and, hopefully, faithfully depict Tokio Restaurant by combining these little bits of info into a full story.
Tokio Restaurant or "The Tokio," was founded by Charles Kline, Harry Salvin, and Henry Fink in 1910 at 141-143 West 45th Street near Broadway in New York City. Between the three entrepreneurs, Harry Salvin had the most experience and possessed "keen insight and intimate knowledge of the [restaurant] business" striking gold in each venture eventually garnering national fame in the restauranting world after shifting his focus to 'The Ritz" in 1915 before his death just three years later in 1918 (1). Henry Fink was a trusted friend and filled in Salvin's role after 1918. The Tokio was Kline's sole business venture in its brief ten years of business before he quickly pivoted to hosting a billiards academy after the restaurant's closure in 1920 due to the impact of Prohibition (3, 4, 6). The Tokio was first and foremost a cabaret with live entertainment, 283 drink options, and until 1918 they allegedly even had prostitution; so alcohol must have flowed more liberally than soy sauce, which explains why Prohibition hurt them so much (2).
The decision for these three white Americans to serve chop suey may seem strange, but I think that they were attempting to cash in on some of the popularity surrounding the relatively new dish. Asian restaurants had been popular since the late 19th century for serving full meals for half the price of any other restaurant. Many restaurants served chop suey as one of the cheapest options on their already generally inexpensive menus; chop suey would cost about eight cents (around two dollars today) when American places charged at least twice that. The Tokio Restaurant served chop suey starting at 40 cents (a little over ten dollars today), no wonder liquor must have been their prime revenue— their food was overpriced to the average person! (7)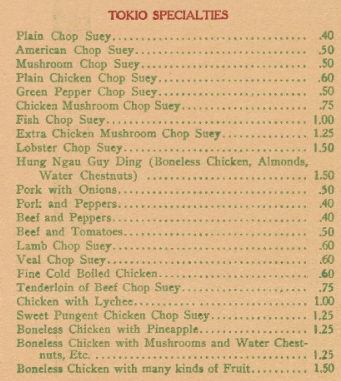 The Tokio may have had some legally gray business dealings but they did not hold back the elite of New York's interest from trying this new novelty. Taking into account a pricy menu where some broiled mushrooms would cost around twenty dollars in today's economy, Salvin's other elite restaurants like The Ritz, and an incident in which a single woman lost $8,000 ($203,373.47 today) worth of jewelry one can assume that The Tokio was a very grand place (5). The Tokio also capitalized on the western interest of Japanese art and culture by serving Mandarin style cuisine with a Japanese aesthetic. The restaurant itself accurately portrayed Japanese culture with a focus in artwork, architecture, and live "international" cabaret entertainment; so the menu's Mandarin specialization appears to be one deviation from this Japanese aesthetic. From what I can gather from the menu's full cast of American food choices the decision to focus on chop suey, which is an attempt to recreate Chinese cuisine with American ingredients, was a pragmatic one because most Americans were probably more willing to try a popular new perspective on familiar tastes rather than try the more foreign dishes like Foung Tan Yau (chicken stuffed with the dried gelatinous coating found on a swift bird's nest).
Following the closure of the restaurant, Charles Kline remained a figure on Broadway with his Strand Billiard Academy where champions played for the last sixteen years of his life until his death in 1936 (6). His obituary glosses over the ten years that spent running Tokio Restaurant with the assumption that those reading about it remembered it, unfortunately not many people remember that interesting place anymore. If not for the prohibition, The Tokio would have stuck around much longer and might even be remembered as a not only a lost novelty but as a lost landmark to the culinary world of New York.
Sources
Unknown. "Mr. Harry Salvin Victim of Pneumonia." The Library of Congress, 16 Oct. 1918, http://www.loc.gov/resource/2004540423/1918-10-16/ed-1/?sp=130&q=Tokio%2BRestaurant&r=0.355%2C0.272%2C0.97%2C0.507%2C0.
Taylor, William R., editor. "Notes." Inventing Times Square: Commerce and Culture at the Crossroads of the World, Russell Sage Foundation, 1991, p. 417. https://books.google.com/books?id=KPqCt8W4CB8C&pg=PA417&lpg=PA417&dq=harry+salvin+tokio+restaurant&source=bl&ots=vbKCx3y8Gk&sig=ACfU3U0rdpCZiWsMqOkeTdr-sA0N7ygbTA&hl=en&sa=X&ved=2ahUKEwjE46vO_pflAhWhUt8KHZtIAvAQ6AEwAXoECAUQAQ#v=onepage&q=harry%20salvin%20tokio%20restaurant&f=false.
"R. L. Polk & Co.'s … Trow New York Copartnership and Corporation Directory, Boroughs of Manhattan and Bronx." R. L. Polk & Co.'s … Trow New York Copartnership and Corporation Directory, Boroughs of Manhattan and Bronx, Trow Directory, Printing and Bookbinding Company, 0AD, p. 965. https://books.google.com/books?id=ypk0AQAAMAAJ&pg=PA965&lpg=PA965&dq=charles+s.+kline+tokio+restaurant&source=bl&ots=KB7AAEqUp0&sig=ACfU3U1karY4NIr79Johz9b7LI89f6sCSg&hl=en&sa=X&ved=2ahUKEwiiqf73-5flAhWSTN8KHRLPAt0Q6AEwAHoECAgQAQ#v=onepage&q=charles%20s.%20kline%20tokio%20restaurant&f=false.
Unknown. "Takes Strand Basement." The New York Times, 25 Apr. 1920, timesmachine.nytimes.com/timesmachine/1920/04/25/112657974.html?pageNumber=97.
"MRS. MOOREHOUSE GETS LOST JEWELS; Woman Who Tried to Conceal Identity Is Wife of Pittsburgh Man." The New York Times, 0AD, http://www.nytimes.com/1914/01/28/archives/mrs-moorehouse-gets-lost-jewels-woman-who-tried-to-conceal-identity.html.
Unknown. "C.S. KLINE IS DEAD; BROADWAY FIGURE; Owner of the Strand Billiard Academy, Where Champions of Last 16 Years Played. A FORMER RESTAURATEUR Had Operated the Tokio, Once Popular for Dinners and After-Theatre Parties." The New York Times, 6 Oct. 1936, timesmachine.nytimes.com/timesmachine/1936/10/06/88699028.html?pageNumber=25.
"'CHINESE-AMERICAN CUISINE' AND THE AUTHENTICITY OF CHOP SUEY." Chop Suey, USA, by Yong Chen, Columbia University Press, 2014, pp. 127–136.